Sustainable and Delicious: Introducing 3 Must-Drink Coffees
Whether you like your coffee full-bodied, bright or mellow, you'll find Roast & Ground coffee beans to delight your taste buds. At Roast & Ground we have refined our coffee range over 18 years or so, to deliver satisfying cups of coffee that can be enjoyed morning, noon and night.
With subtle flavours that envelop you in a caressing hug, to robust pick me ups that instantly energise, our range of handpicked coffees is a perfect match to our coffee machines that will deliver cup after delicious cup.
But delicious coffee is only part of the story. The environment and care for our planet informs everything we do, and that means choosing coffees which are produced using sustainable methods. The three coffees that we focus on in this blog are Rainforest Alliance or Fairtrade certified, meaning you can enjoy a rich and satisfying coffee in the knowledge that, in the case of the Fairtrade mark the farmers are being paid a fair wage, whilst Rainforest Alliance ensures the land that the coffee is grown on is sustainably harvested. Here's a bit more about these accreditations and what they mean.
Rainforest Alliance
Rainforest Alliance is a certification that covers many industries, from forestry and agriculture through to tourism. The one thing they all have in common is that the services or products only use natural resources which are sustainable and considerate of the environment.
For coffee production this means that every step is meticulously planned to conserve forests, protect natural water sources and nurture soil health, while maximising crop yield and harvesting sustainably.
Fairtrade
Fairtrade is a global body that many people will have heard of, an organisation that ensures farmers and workers in developing countries get treated properly. This means safe working conditions and fair prices.
As part of their overall standards, Fairtrade also consider sustainability. To receive the Fairtrade mark, a farmer must demonstrate that their processes are eco-friendly and meet the requirements for sustainable production.
Of course, sustainability is about more than just the farming and production, so we play our part too. Our coffee comes in large packs, typically double the size of the packs of gourmet coffee that you'd buy from the supermarket. This means less packaging, and less waste – and more delicious coffee for you.
So which coffee should you choose? Here's a bit about three of our best-sellers.
9-to-5 Rainforest Alliance
The name 9-to-5 Rainforest Alliance tells you everything you need to know: a sustainable, certified coffee, it's easy to drink and can be enjoyed throughout the day.
The Natural Bourbon coffee beans are harvested from the highly acclaimed Daterra estate in Brazil, a country known for producing deliciously well-rounded coffee.
Daterra has the oldest coffee plantations in the Cerrado region with exceptional growing conditions that produce memorable coffee. They were the first Rainforest Alliance Estate in Brazil, winning the Prêmio Fazenda Sustentável 2015 prize for being the most sustainable Brazilian farm.
All of this is reflected in the care that is taken in the production of the coffee, which fuses traditional and handpicked methods with cutting edge technology. Each plantation area is harvested individually, with the beans precision-dried and rested to give a soft, velvety taste.
The complex flavours of 9-to-5 are evidence of the high-quality production. Medium roasted, this is a blend that will appeal to many coffee drinkers offering ripe cherry tones and deeper caramel, chocolatey flavours. When drunk with milk, this blend gains a fuller body, with buttery nutty notes more evident.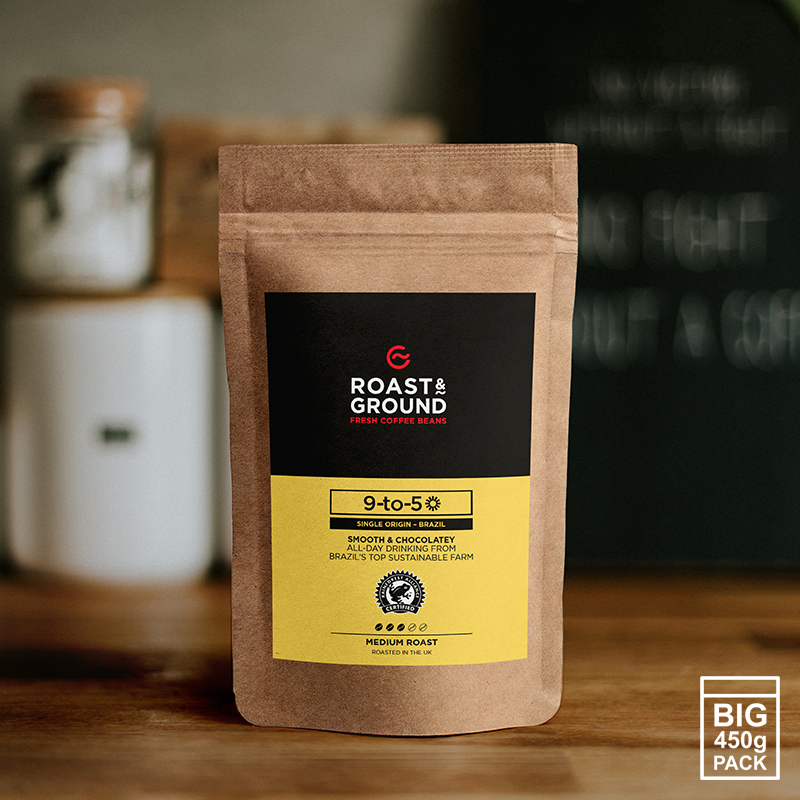 Pick Me Up Fairtrade
Pick Me Up is a light to medium roast made from a single arabica coffee from Huila in Columbia. The result is a gently uplifting cup of coffee that can be enjoyed at any time of the day.
Columbia has one of the best coffee-producing pedigrees and one of only a handful to produce the sought-after arabica beans. Huila is one of the largest speciality regions within Columbia, a mountainous area which nestles in the south west of the country. The lush soils are perfect for crops which include banana, cocoa, and sugar cane, and of course coffee.
These conditions mean that Huila Columbian coffee is known for a rich yet mild flavour, with an absence of any bitterness.
Pick Me Up is a Fairtrade coffee which is ethically sourced from a multitude of small growers in the Huila state, from farms with an average size of less than three hectares. This means every coffee been has been carefully nurtured through to harvest, resulting in the finest coffee around.
This clean-tasting cup of coffee combines citrus acidity with an intense caramel flavour, rounded off by toasted hazelnuts and distinctive milk chocolate. Even when enjoyed with milk, the sweet nutty flavour is unmistakable, partnered by a creamy body and lingering butterscotch notes.
Borough Blend Fairtrade
We are constantly refining our Roast & Ground range and we love each of our coffees for different reasons and different uses. However, if we were pushed to pick a 'house' coffee, this one would be it. There's nothing subtle about Borough Blend; it delivers a full and powerful flavour that's ideal as a morning wake up, or an after-dinner energiser.
The intensity of this blend makes it ideal for an espresso, but is also delicious when used as a bean to cup or filter coffee.
Borough Blend is certified Fairtrade, so you can drink as much as you want knowing you are helping growers and farmers earn a living wage. The blend is harvested from a combination of arabica beans from the Indonesian Archipelago and combined with Central American beans.
Arabica beans in Indonesia are grown among spices and chillies in volcanic ash, giving a flavour that's unique. Simultaneously earthy, piquant and velvety, Indonesia arabica coffee is bold and powerful with a strong and evocative aroma. In contrast, Central American beans are renowned for their sweet nuttiness, and the even balance of their flavours makes this the perfect partnership.
A cup of Borough Blend delivers satisfying caramel and fruity notes finished with a nutty chocolate flavour in a well-rounded velvety cup. When milk is added the sweetness intensifies, retaining its slight hint of characteristic spiciness but carrying the chocolate and caramel notes.
Need Some Help Deciding?
We prefer to offer a small but perfectly balanced coffee range. Small enough to try a variety and choose your favourite. If you are finding it difficult to know where to start, do get in touch as we don't just provide the coffee, advising on the different beans, and of course coffee machine too, is an integral part of what we do.
If we've piqued your interest in Fairtrade and Rainforest Alliance accreditations you might like to read our 'No-nonsense Guide'